Once upon a time, long long ago, the Goddess Altana looked upon the world of Vana'diel and saw that something was dreadfully absent. And see this, Altana picked up a Tiny Mandragora from Windurst, and imbued upon it the form and function of a hume male. Why Altana did so, I can only hope the Star Sybil knows.
The Tiny Mandragora reformed, the Goddess Altana bestowed upon him the name of "Therelith" and loosed him upon San d'Oria, because San d'Oria needed some real loosening after the Kingly Decree of 847 that required that all adult Elvaan wear a darksteel rod up their posterior.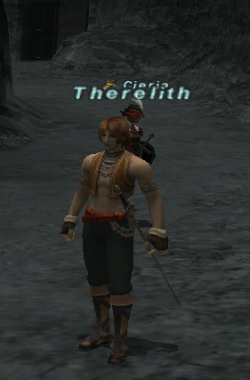 So, lost in San d'Oria and clueless of what to do next, Therelith found three objects: a sword, a scroll of Dia, and a pickle, and suddenly he knew what to do. He ate the scroll, poked a moogle with the sword, and stuck the pickle in his ears. When the people inside the pickle started talking, it changed the course of his life forever, though a league of 50 white mages has yet to cure him of the Talking Pickle Disease. Nor has the San d'Orian League of Decency made any headway on combating his Chocomog Bordello.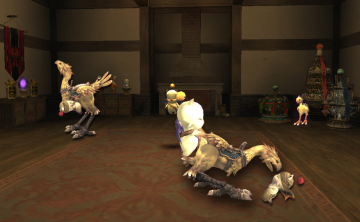 Over the years, Therelith followed his destiny, to spread Altana's Gospel of Chocobo and Moogle loving and to test the limits of how much pimp clothing a single human male can wear before going completely blind. Both Cieria and I salute you today.